Automated Vehicle Readiness Study
To prepare for connected and automated vehicles (CAVs) on Utah roadways, the Utah Department of Transportation (UDOT) partnered with VSI Labs in August 2021 to conduct an Automated Vehicle   Readiness Study of selected Utah roads.
The study team evaluated the compatibility of Utah roads with CAV technologies, specifically the Lane-Keep Assist (LKA) feature common in many Advanced Driver Assistance Systems (ADAS). LKA and other ADAS technologies rely on camera evaluations of lane markings.
The study was conducted by a team with two vehicles, each equipped with a full suite of automated driving sensors, such as advanced camera, lidar, radar and positioning systems. The vehicles were driven on different roadway segments throughout the state to record data from the automation sensors.
The study findings demonstrated that the majority of surveyed routes are very suitable for Automated Driving Functions, including Lane-Keep Assist. The study confirmed that alternating black and white lane striping, or tiger tail striping, were highly effective and recognizable by LKA technologies. Based on various factors, some roadway deficiencies were identified on the surveyed roadway, such as:
Missing lane markings, such as on-ramp blend areas.

 

Gaps in lane markings or not have full lane markings (often due to pavement maintenance).

Lane markings that are not high contrast, making them less visible.
WHAT UTAH ROADWAYS WERE EVALUATED?
As part of the Automated Vehicle Readiness Study, VSI Labs surveyed more than 1,000 miles of roadway on three routes within Utah:
I-15 between St. George and Salt Lake City

US-89 between Salina and Spanish Fork

SR-210 in Little Cottonwood Canyon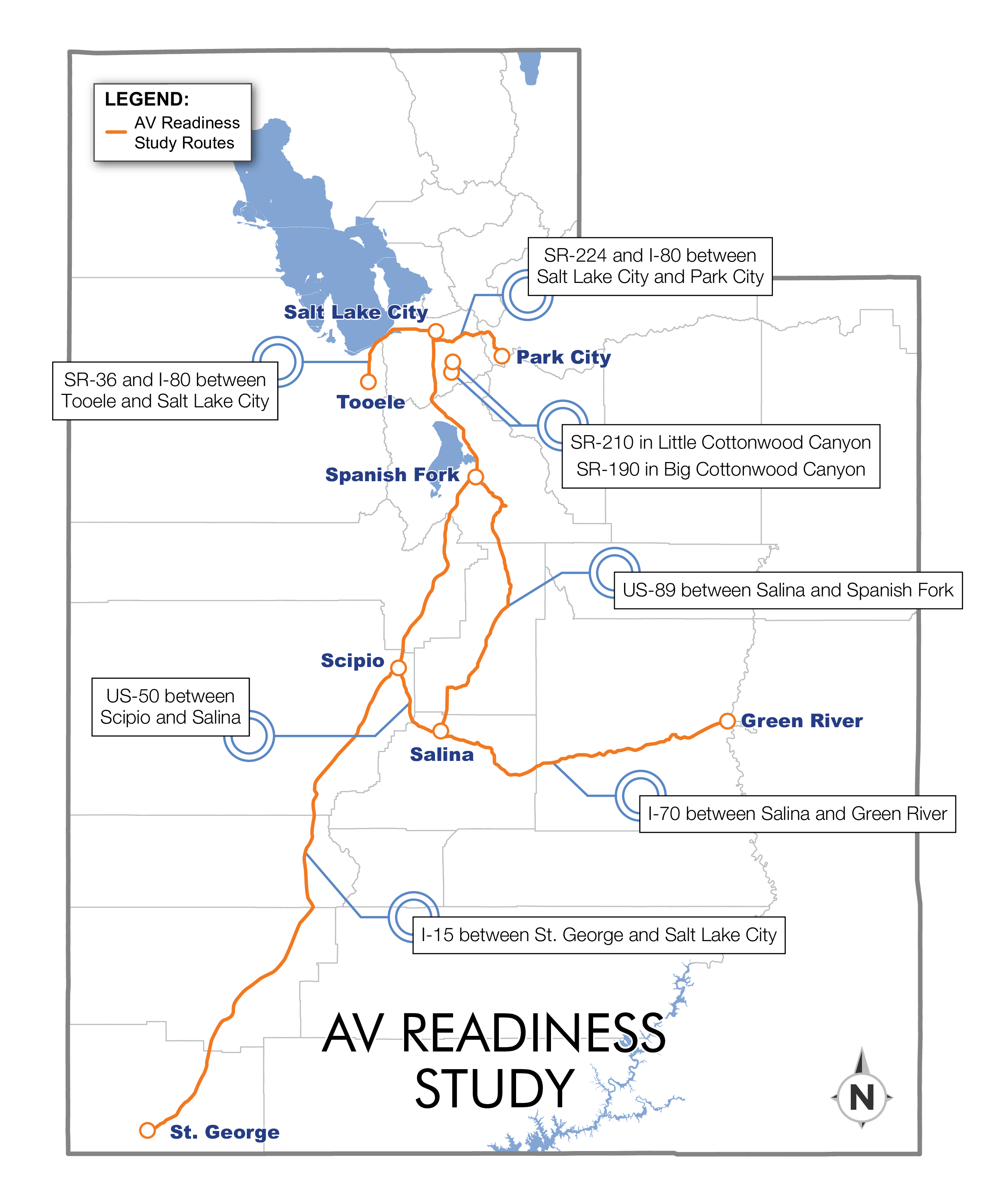 Nearly half of new cars sold today have forward-facing cameras that can read lane markings. The Automated Vehicle Readiness Study provided UDOT with data to ensure Utah's roadways are ready for current and future CAV technologies. UDOT can utilize the data and specific areas that were identified as needing some improvements to help inform lane marking maintenance and improvement strategies. The study can also inform UDOT standard practices, and its results can be shared with other states.
UDOT continues to be at the forefront of CAV and implementation and is constantly researching solutions to support their goals of safety, mobility and quality of life. Completing the Automated Vehicle Readiness Study is one of the ways UDOT is preparing for the future deployment of CAV technology, which can help prevent crashes and save lives.